Real Flying Truck Simulator 3D
Play Now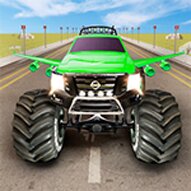 Choose your favorite truck from unique and cool vehicle designs, give them a pair of wings, and fly above a city full of opportunities with Real Flying Truck Simulator 3D! Follow many missions with your dream car, explore the skies as freely as a bird, and earn for every completed quest!
You can start by checking out the garage and truck options to get an idea about the prices and models. Six types of wings are always available for all cars, so you can choose your favorite design and add them to your truck. Now you can roam the streets or soar among clouds. You will get quests randomly, accept them to learn about the terms, or keep freeriding and discover the roads and skies while collecting gold coins. Click on the wings button to open or close the wings. You can use the nitro in the air to get a speed boost for a limited time. If you get stuck, you can hit the reset button to reset your car. You can change the camera view, go back to the garage, or pause the game by the options on the top right. Also, keep an eye on the fuel on the top left to plan your actions accordingly. Earn money while having fun with your ultimate truck and unlock new vehicles to add some style!
If you are into trucks and 3D surroundings, you can check out Monster Truck 3D Winter and participate in races on extreme parkour tracks!
Developer
Best Free Games developed Real Flying Truck Simulator 3D.
Release Date
April 14, 2022
Features
Colorful 3D graphics
Easy to play
Flying and driving options
Unlockable content
Controls
You can use the arrow keys or "W, A, S, D" to play.