Car Eats Car: Volcanic Adventure
Play Now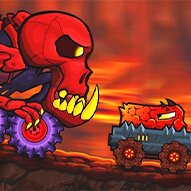 Take your place in a thrilling escape from hell with Car Eats Car: Volcanic Adventure! Collect rubies, defy the laws of physics on exciting platforms, and destroy little evil cars with your monster truck! Dodge the bites of police cars and get out of this infernal prison safely with your friends! Fight the boss of the underground and bring hell upon your enemies!
Yes, you are a convict in this hell full of cops, but look from the bright side: you are bigger, a lot bigger. Also, you get bombs to use on them while they attack with bites. So keep your distance, keep an eye on the cages, and avoid obstacles that slow you down and close your distance with your enemies. Collect rubies on your way, and kill as many evil cars as possible, because they also bring you gems. You can use your gems to upgrade your cars in terms of durability, speed, acceleration, and attack power. You can also unlock new gadgets and bombs that make things a little easier for you. Find and unlock a new vehicle on your way and try every combination to find out what fits you the best! Collect skulls and advance through more than twenty levels to face the ultimate enemy!
If you like adventures that involve cars, you can check out City Driver Steal Cars and fight the law in another universe!
Developer
SMOKOKO LTD developed Car Eats Car: Volcanic Adventure.
Release Date
March 15, 2022
Features
Colorful 2D graphics
More than 20 levels of challenge
A final boss fight
Unlockable upgrades
Controls
Use the arrow keys to move, the spacebar to drop bombs, and shift for speed acceleration.