Play Now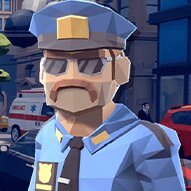 Bring some action to your life with City Driver Steal Cars! This is a very chaotic city that you live in. To make a living, you have started to steal cars and this chaotic city only helps this! Now, are you ready to dive into the world of criminals and make money by stealing cars?
In this adventure game with fun 3D graphics, you will feel yourself in that city with your character. Freely walk around in the shoes of your character, set your view with the cursor, and find a car to steal! When you choose a car, freely hop on it and start driving around the streets. You are given one car at a time to steal and take to the parking spot you're shown. Just try to find those cars by freely driving around and then follow the assistive arrow to find the parking spot. You won't get busted in this game, so feel the adrenaline and enjoy doing things you wouldn't normally do! Let's see how many tasks you can complete in this fun and exciting game!
If you enjoyed playing City Driver Steal Cars, you should check out playing Parking Fury 3D by clicking here.
Developer
GoGoMan developed City Driver Steal Cars.
Release Date
December 08, 2021
Features
3D colorful graphics
3 different driver views
Assistive speedometer
Need for skillful driving controls
Fun driving experience!
Controls
You can use the WASD or the arrow keys to drive and park the car. Use the cursor to rotate the character, the F key to get in and out of the cars. The space key is to jump, and the C key is for the handbrake.