Play Now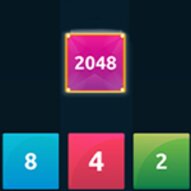 You are welcome to join the challenging world of numbers with 2048 X2 Merge Blocks! What can you do when boxes start falling down the skies? Why, merge them, of course! Think fast and react fast to survive in this infinite puzzle of numbered boxes! Keep up with the high pace of the game and get better with time to beat your best score!
The boxes with the same number written on them can be merged. You need two or more identical boxes to do this, and the result changes with the number of boxes merged. Merging two boxes doubles the number while merging three boxes multiplies the number by four. You can follow a pattern or place them randomly to give in to the chaos but remember that the game ends when the boxes pile up to the ceiling. Keep the higher numbers at the bottom and the low numbers at the top to make combos. Trigger continuous reactions to get extra points that add to your score. Check the game stats from the main menu to see the highest numbers you have reached and set new goals for your future matches! Sharpen your mind and senses to unlock the highest numbers!
If you like merging puzzles, you can check out 2048 balls and merge numbers by throwing balls!
Developer
Inlogic Software developed 2048 X2 Merge Blocks.
Release Date
January 20, 2022
Features
Colorful theme
Unlockable achievements
Improving puzzle skills
Available on mobile devices
Controls
You can use your mouse to play this game.