Play Now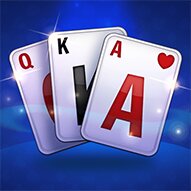 Enjoy the convenience of digital card games with Classic Solitaire Blue! Choose the game mode and difficulty, get your cards dealt randomly by AI, and play while the game keeps track of the passing time, bonuses, and score points for you! Get some tea, sit down on your comfy couch, and let's get started!
This version of the all-time classic card game comes with a lot of features! You get the relaxing colors, simple theme, user-friendly interface, easy controls, and introductions. There is also the advantage of not having to deal with actual cards and the mess! You can always hit the restart button and replay the game with just one touch! Also, you can come back and play on your mobile phone! Carry your favorite card game in your pocket wherever you go. Sit down in a park, choose between left and right-hand options in the menu, and start the game. You can go with the one-card option if you are new to the game, but the three-cards game mode is even more fun with the increasing challenge. Do not be afraid to open the menu and check out the instructions if you get confused. Have fun!
If you like playing Solitaire and its digital versions, you can check out Solitaire Story TriPeaks 3 and follow a cute fox through the levels of the game!
Developer
SOFTGAMES – Mobile Entertainment Services GmbH developed Classic Solitaire Blue.
Release Date
August 1, 2022
Features
Nice graphics
2 game modes
Difficulty options
A settings menu
Available on mobile
Controls
You can use your mouse to play this game.