Play Now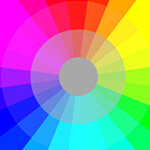 In Color Theory, fasten your seatbelts and get ready to travel to space! You can be sure that it will be nothing like you've ever experienced before. You'll face many dangers along the road and try to avoid getting lost in space. Are you ready to face the challenges that await you on this journey?
Get ready to manipulate the colors and find your way through each colorful level. Your objective is to reach the white dot that awaits you at the end of each level. There are 30 levels to beat the game! To do that you need to change the colors and use their power to your advantage. You can change the colors by standing on a colorful plus. You can stand on red, blue, and green but not the other colors so be careful and don't fall into the depths of space. Avoid darkness at all costs to complete the game! You can play the game using arrow keys. Use the left and right arrow keys to move around and the up arrow key to jump. The game gets more and more challenging at each level and you need to face aliens and maze-like levels as the game progresses. So, hop on our spaceship and travel the space with us!
If you like this retro game and are ready for more challenging ones, you should definitely check out our collection of online puzzle games!
Developer
Developed by GrooveMasterCox.
Features
Intuitive controls
Colorful retro graphics
30 levels to complete
Fun gameplay
Controls
You can use the left and right arrow keys to move around and the up arrow key to jump.