Play Now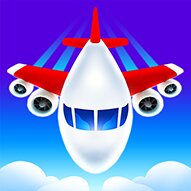 In Fly THIS!, get ready to play the sequel to the popular game Conduct This! It's clear that you have perfect problem-solving skills when it comes to controlling traffic. That's why we decided to raise the challenge even more and see how well you do at controlling air traffic. If you are ready, so are we!
This puzzle game is here to take you to the skies. Since drawing plans to control traffic seems to be your forte, letting you control air traffic seemed like a good use of your skills. No doubt you'll master this skill as well in time. Your objective is to transport passengers to the right airport. You can see the exact number at the top left corner of the screen. When the airplane arrives at an airport, wait until a checkmark appears on it and all the passengers are safely aboard. You need to carry the passengers to the airport that is the same color as the airplane. Draw a line between the two and you are good to go. Sometimes you may come across other planes. Then you can redraw the line to reach there safely. If you crash into another plane, the consequences may be too severe, so be careful! As the game progresses, you'll need to control two and even three airplanes at the same time. Also, the sky isn't the only limit here. Keep in mind the timer and finish each level before it ends. Unlock new airplanes with the money you earn to upgrade your airport and set flight to new islands. Enjoy!
The prequel of this game, Conduct THIS!, is here to you to take you on a new adventure. Enjoy!
Developer
Northplay developed Fly THIS!
Release Date
May 31, 2021
Features
Colorful 3D graphics
Unique islands with different themes
Intuitive controls
Fun and addictive gameplay
Controls
Use your mouse to play this game.