Play Now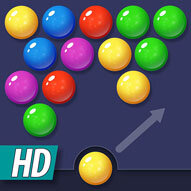 Bubble Shooter HD is here so shake off that boredom on you and get ready to embrace a fun and addictive journey. If popping colorful bubbles weren't impressive enough before, experience it in HD now! Are you ready to clear the board and get a high score?
Popping bubbles in real life might frighten you with that big boom, but the ones in this game are so fun to destroy! Your objective is not very different from the other games of this popular genre. All you need to do is to try to pop as many bubbles as you can without the row touching the bottom of the screen. If you fail to pop bubbles after 5 tries, the rest will move down a row! You can use your mouse or finger to aim. Try to group 3 or more of the same-colored bubbles to pop them. You can remove small portions or plan ahead and group up a big cluster of same-colored bubbles for that big and satisfying pop! At the bottom of the screen, you can see your score, the bubble you'll throw, and the ones in the line. So you can plan your moves and make sure to earn the highest score you can get! Good luck and have fun!
So you want to prove your skills? Why not click here and visit our collection of free and online skills games? Enjoy!
Developer
Azerion developed Bubble Shooter HD.
Release Date
September 17, 2021
Features
Colorful 2D graphics
Intuitive controls
Addictive and fun gameplay
Colorful bubbles!
Controls
Use your mouse to play on desktop, and your finger on mobile devices.