Play Now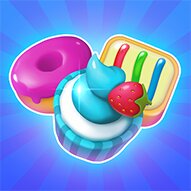 Match mouth-watering sweets, make tasty move combos, and set out on a journey of more than two thousand levels with Cookie Crush 4! Hold and slide donuts, pies, cookies, and sweets to complete level quests before you run out of moves! Step into this fantasy world of desserts and explore the tastiest challenges!
Welcome to a delicious selection of randomly generated sweets and their puzzling quests! You will be given a limited number of moves and missions at each level. Fight against the mighty waffles that try to cover the whole world, build tactics to finish before you run out of moves, and try new strategies to make stronger dessert combinations! All you have to do is hold a desert and swipe it with another to align three or more identical sweets! Matching four sweets in different move combinations or aligning five grants you boosting desserts with explosive abilities. Match two of these super sweets to trigger special attacks with amazing visual effects! Collect money from levels and use them to buy boosters and swap or crush cookies without using any moves. Advance through challenging levels, unlock treasure chests, and activate new features! Stop by the daily tournament to give a shot at a new challenge every day!
If you like this cute matching puzzle, you can check out Candy Rain 6 and discover another delicious land of mysteries!
Developer
SOFTGAMES – Mobile Entertainment Services GmbH developed Cookie Crush 4.
Release Date
July 11, 2022
Features
Nice visual effects
Fun for all ages
Puzzles and level challenges
Unlockable boosters
Available on mobile devices
Controls
You can use your mouse to play this game.