Cooking Fast: Hotdogs and Burgers
Play Now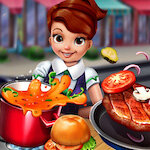 In Cooking Fast: Hotdogs and Burgers, a city full of hungry customers is waiting for you! Grab your tools, turn on the stove, and let the amazing and mouth-watering smells of delicious foods fill the air. Can you keep your every customer happy by preparing their orders fast?
Running a restaurant has its challenges. But as the most determined and enthusiastic chef, no challenge is big enough to stop you from cooking! Your objective in this game is to complete each level by collecting the necessary amount of money. When you select a level, a window will pop up and give you a summary of your objective. When you start, people will come to the counter and you can see their order in the thought bubbles above their head. Click on the ingredients to start preparing. Watch out for timers! You wouldn't want to burn anything. When the food is ready, click on it to give it to your customers. You should be quick though. None of your customers will wait forever. You can check their patience by looking at the timer located next to them. Can you complete all the orders and make a great profit?
Are you a foodie? If so, you should check our collection of free food games. Have fun!
Developer
Bofer Media (Twim Studio) developed Cooking Fast: Hotdogs and Burgers.
Release Date
February 21, 2019
Features
Colorful 2D graphics
Multiple levels to complete
Challenging and fun gameplay
Intuitive controls
Controls
You can play this game with your mouse.