Virtual Families Cook Off
Play Now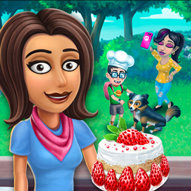 In Virtual Families Cook Off, it's time to celebrate this sunny day with a barbecue! Open your yard to your guests, take your place by the grill, and get ready to cook the juiciest burgers in the neighborhood! Do you have what it takes to show others that you're the best home cook in the area?
Get your burgers and milkshakes everyone! Wear your apron and get ready to flip some patties! Your objective in this game is to complete each level by meeting the level goal. You can play the game with your mouse, so let's start! In each level, a guest will arrive at the table and tell you what they want. Use your mouse to place the ingredients on the grill, but keep an eye on them! Don't forget to take them off the heat as nobody would enjoy a charred burger! As you serve your guests, they will leave tips for you. When you complete a level, you might get a recommendation letter from one of your neighbors. You can use these to unlock new things and become a better chef! Have fun playing!
The best customer is a hungry one, and you're no short of grumbling stomachs in our other popular game, Burger Chef Restaurant. Keep your grill hot and your customers happy and full! Enjoy!
Developer
Gogii Games developed Virtual Families Cook Off.
Release Date
November 16, 2020
Features
Colorful 2D graphics
Different themes and items to unlock
Dozens of levels to complete
Intuitive controls
Entertaining gameplay
Controls
You can use your mouse to play this game.