Play Now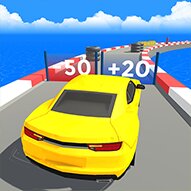 Break the speed limits with Count Speed 3D! Use the speed doors to get your car faster, pick up the gold coins on your way, and keep going after passing the finish line to multiply your treasure! Save money, discover the speed monsters at the game shop, and unlock them all!
Get ready for a new kind of racing! There are no other drivers; it is just you and the track itself. There are some twists, of course, but nothing you cannot overcome with these driving skills. So, get into the starter car, and put your foot on the pedal! You must steer your vehicle left and right while it changes speed with the effects. The higher your speed at the finish line, the higher your rewards will be. The two types of portals on the track affect your speed differently. Blue portals ad to your speed while red portals decrease it. Read the numbers on them to make the calculations quickly and move through the right portals to increase your velocity. Save money and stop by the shop to unlock new car models you like. You can also use your money to increase your income and maximum speed. Have fun!
If you are interested in cars, you can check out our other Car Games to find more games like this!
Developer
BPTop developed Count Speed 3D.
Release Date
September 6, 2022
Features
Simple controls
Increasing math skills
Colorful 3D graphics
Unlockable vehicles
Available on mobile
Controls
Click or tap and hold to control the car.