Play Now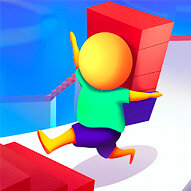 Stair Run is here to test your eye and hand coordination skills combining it with speed! It is a climbing rush that you build upstairs to avoid the environment. How do you avoid the environment? Well, if the floors you step on are burning you, you gotta avoid that! Haven't you? Let's jump into this running adventure now to learn more!
Similar to other running games that you collect stacks and tiles, in this fun adventure, you should do the same to keep moving on your way. The environment is very dangerous for you. First things first, watch out where you step! The blue paths are quite safe for you to walk on but when it turns into another color like red, you should put the stacks that you collected before. Your objective is to reach the finish line by building stairs with the stacks. collect all the stacks on the way and click or tap on the screen to put them. Once you do that, the stacks will create stairs automatically and you will go up. You can check your current level from the top of the game screen. Restart your current level by clicking or tapping on the restart button situated on the left top corner of the screen. Let's see if you can complete all 31 levels without any fail now!
If you enjoyed this adventure, be sure to check our collection of online and free running games to browse more fun titles like this game.
Developer
bestgames.com developed this game.
Release Date
November 20, 2020
Features
3D colorful graphics
Dangerous paths to avoid
31 levels to complete
Fun and engaging gameplay
Controls
You can use your mouse to play this game.