Play Now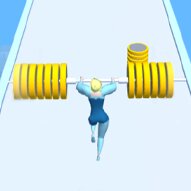 Help beautiful female characters lift weights and build muscles with Weightlifting Beauty! Run along the parkour built for weightlifters, face armies of men and defeat them, and pick up numbers after passing the finish line to multiply your bonus diamonds! Upgrade your character's strength and starting weight and get closer to your desired form!
This track is nothing like the gyms you have seen. It is built like a parkour course specifically designed for weightlifters. So, grab your bar and start picking barbells! You must walk through items or get magnets to pick them from distances. The weightlifter must have at least one barbell on the bar to keep running, so watch out for the walls and other obstacles that might cost you barbells. Use your bar to slide along pipes and keep your balance while walking through the narrowest bridges. Collect all bonuses beyond the finish line and reach the track of diamonds. Move as quickly as possible to collect the maximum amount of these purple diamonds. You can use them at the game shop to buy new skins for your barbels and start carrying donuts! You can also use diamonds to upgrade your character's muscles and starting weight. Complete levels and discover all skins!
If you like this game, you can check out our Running Games and find more games like this!
Developer
wey.game developed Weightlifting Beauty.
Release Date
September 7, 2022
Features
Nice 3D graphics
Unlockable character and item skins
Easy to play
Fun levels
Challenging courses
Available on mobile devices
Controls
Use your mouse or tap to control your character.