Play Now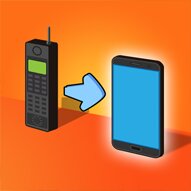 Start with the first cellphones and peek into the future technologies with Phone Transform! Walk the road of evolution with these little computers, discover new features with new years, and get paid for each change!
Upgrade the starting year and money and unlock new skins for your character and phone! The times are changing, and phones are getting new features every day. Today, you can join that road and evolve with your phone! Jump days, weeks, and years with your mobile device, and make it to the finish line without losing process! The rules are simple; you must move the phone through the portals and try to move as far as possible. To do so without losing progress, you must focus on avoiding touching the obstacles and red portals while going through all blue portals. It might get confusing when you must decide between two red or blue portals. Do the math and choose the most advantageous one. You lose the game if you lose so much process, so try to stay neutral even if you cannot move forward. Earn money by pushing the boundaries, and spend it in the game shop. You can unlock new phone cases and hand skins for your character.
If you like this game, you can check out our other Running Games to find more games like this.
Developer
YAD.Com developed Phone Transform.
Release Date
September 5, 2022
Features
Nice 3D graphics
Interesting theme
Lots of phone models to discover
Unlockable skin options
Available on mobile
Controls
Use your mouse to control the hand.