Play Now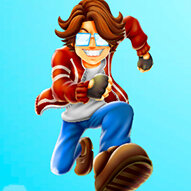 Endless Runner 3D is here for the crazy running games fans! You will be addicted to this game after you try for just 2 seconds! So, you better put on your running shoes and stretch your legs to get ready for a run! Have fun!
Yes! We know that you are young and chomp at the bit! That's why you end up here, on a railway! So, you have to run without stop not to caught by the policeman! You better run! Your objective in this game is to run as far as you can and earn the highest score possible. You should use your arrow keys to control your character. There is no end to this road, the railway goes to infinity! But the important thing is, you will face many obstacles. Don't let them slow you down! Try not to hit barrels and other obstacles on your way or else the game is over. Good things are happening here too! You will also find gems on your way or power-up that will make you faster! And the best part is, you can even take a hoverboard! So, try to run longer and find new power-ups! Maybe you can buy new characters if you have enough diamonds! Good luck with running!
If you want to try another game similar to Endless Runner 3D, then be sure to check Shift Run by clicking here.
Developer
New Gamer developed Endless Runner 3D.
Release Date
February 15, 2019
Features
3D colorful graphics
No levels to pass
Adventurous game
Entertaining gameplay
Controls
You can use your left arrow to move left, right arrow to move right, up arrow to jump and down arrow to scroll downwards.