Play Now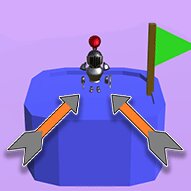 Improve your addition and multiplication skills with the satisfying visuals of Arrow Challenge! Lead a pack of arrows through portals to the hall of ancient armors and take them down to reach the treasure chest! Improve your arrows and income to start the levels stronger and make it further with each try!
War strategies have always involved the use of math, but this battle depends on it. Every choice you make will affect the outcome. So, quick-thinking and sharp reflexes do a lot of job on this track. Increase your numbers by passing through the right doors and attack the armors waiting for you at the end. If there is one red and one green door ahead, the solution is simple. But if you must choose between two red or two green doors, you must quickly calculate the results and choose the portals that will leave you with the highest number of arrows. Do not let the stack in front of you fool you; the true number of the arrows you have can be seen on the top left. Multiply as much as possible before the hall, and watch your attacks destroy everything on your path!
If you like this fun math game, you can check out Arrow Count Master and work your skills in another war!
Developer
DAB3Games developed Arrow Challenge.
Release Date
October 14, 2021
Features
Satisfying visual effects
Fun theme
Nice 3D graphics
Improving skills
Available on mobile devices
Controls
You can use your mouse to play this game.