Play Now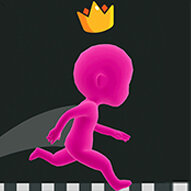 Run Race 3D 2 is here to test your running skills! So, you better stretch your legs and take your place by the start line! Your opponents are very ambitious, but you have a natural talent to outdistance them! Will you able to reach the finish line before anyone does? Good luck!
This is not your ordinary race, buddy! The racetrack is not linear this time and it is filled with various obstacles, but you can totally handle this! Your objective is simple, you will race for winning every race by beating others. Get ready to run, wall jump, and roll! Your character will automatically move when you start the game, you just need to use your mouse and click on the screen at the right times to jump. Jump from wall to wall, climb on the ropes, slide, accelerate, tumble, jump higher, grab and sway, hook on the horizontal bars. Do not stop! You will race against 4 other runners as it is a multiplayer game. When you win a race, you complete a level and unlock the next one. You can follow the ranking in the top left corner of the screen. You will run 3 laps in each level. Are you ready to run to death, perform stunts and complete each level with ease? Have fun!
If you want to try another game similar to Run Race 3D 2, then be sure to check Wacky Run by clicking here.
Developer
Vseigru.net developed Run Race 3D 2.
Release Date
May 21, 2019
Features
3D graphics
Competitive gameplay
Multiple levels to pass
Addictive and entertaining gameplay
Controls
You can play this game with your mouse.