Play Now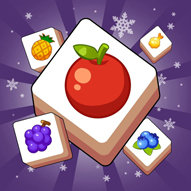 In Cube Mania, make yourself comfortable in a colorful and tasty world filled with delicious snacks! Sorting different foods together must be every foodie's dream, and that's what you'll be doing in this game. Would you care to take a look at the menu?
Your objective in this game is to complete each level as fast as you can before running out of time. You can play with your mouse, so click on the play button on the main menu to start the game. This game features more than a hundred levels, so you have a long journey before you. To complete a level, you must clear all the blocks in it. You should click on the blocks with the same food image on them to move those to the empty row at the bottom. When three or more of the same blocks come together, they'll disappear. You can crit by continuously eliminating the same kind of blocks. Need a point boost? Then you should try to perform a combo! You can do this by continuously eliminating blocks within two seconds! You should be fast! You can earn a maximum of three stars on each level, depending on how fast you complete the level. Check the time bar at the top of the screen. This bar empties as time goes by, but you can fill it by destroying blocks. Try your best to collect all the stars, and talk about being starstruck!
Why not try our other game Dream Pet Link, by clicking here next? Have fun!
Features
Colorful 2D graphics
Over 100 levels to complete
Intuitive controls
Entertaining and addictive gameplay
Dozens of achievements to earn
Daily rewards
Controls
You can play this game with your mouse.