Play Now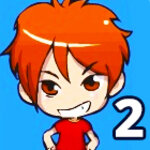 In Daily Life 2, take control of a character and make them live their life to the fullest. Life is not easy and it presents many different challenges for everyone. In this game, can you make your character achieve great things and live in the lap of luxury?
Working, study, socializing and taking care of basic needs is what life is all about! Your objective in this game is to make your character thrive and excel in life. You can play the game with your mouse, so click on the play button on the main menu to start. Next, pick a character from 4 different options. After that, you should select a game mode. You have 2 options. The first one is the mission mode where you try to complete certain objectives in 7 days. The other one is the free mode where you have 30 days to have a good career, lots of friends, and money. When you start, you'll see the map. You can visit different places by clicking on them. Your character has needs that you should take care of. Rent a house so you can sleep, visit the restaurant to eat, and the theatre to have fun. You can meet other characters and befriend them. Each action takes time. Enroll in the university to earn a degree to get a good-paying job. Live life to the fullest, and have fun!
Life is an adventure, and we have many games that could take yours through different events! Go ahead and visit our collection page of free adventure games. Have fun!
Features
Colorful 2D graphics
4 different characters to choose
2 different modes to play
Various places to visit for different activities
Controls
You can use your mouse to play this game.