Play Now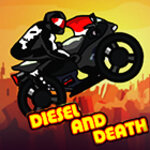 In Diesel and Death, get ready for a dangerous motocross experience! With its fun level designs and entertaining gameplay features, you can quench the daredevil in you! Jump onto your motorbike and start the engines, because your arch-enemy is waiting for you!
In this game, you take control of a motocrosser named Death and race against your long time opponent Diesel. Your objective is to win this race with any means necessary. Different from ordinary races, you can use weapons in this game to hinder the efforts of your opponent. While racing, you'll see various crates on the track. Collect them for 8 different power-ups, and hit the SPACE BAR key to use them when you need to gain the upper hand! From rocket launchers to grenades, you have many different options to use! If both of you manage to survive the attacks of each other, then you should keep an eye on the timer. When it hits zero, both of you will die and lose. Diesel is not the only danger you should be paying attention to. The track is filled with obstacles! Be careful and become the winner! Good luck!
With enough dedication and training, everyone can ride a motorbike! Join T-Rex in our fun game Rex Racer, by clicking here. Have fun!
Developer
Diesel and Death was created by 3RD Sense
Features
8 different power-ups
Easy controls
Play against computer
Nice graphics
Controls
Use arrow keys to control your bike. Press space to use power-ups.