Play Now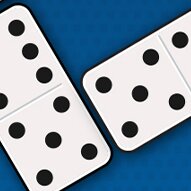 Try to win a classic and traditional game now online in Domino Battle! Everyone has an image on their minds when they hear the word domino. Generally, it is associated with creating outlines of various designs and letting them fall one after another. Here, though, the domino battle presents a different kind of challenging game. Are you ready to make powerful strategies to defeat your rival?
In this strategic game, you need to end the tiles in your hand before your rival wins the rounds. At the end of each round, the party to finish the tiles first is given the points. Those points are the total of the tiles' values that are left on their hands. The first party to earn up to 100 points will win the game. Both sides start with 7 tiles on the hand, and your main aim is to have no tiles left as soon as possible. To get your hand free of those tiles, you need to follow a set of rules, though. Thanks to this online game, you are given the potential tiles that you can put in the middle next to the current tiles there. That is, only if you have tiles with the same numbers as either of the two tiles on the two edges. You can simply click on the tiles and the system will place it automatically. When you can add a tile to both tiles on the edges, you must choose for yourself, though. Now, get ready to use your strategy skills to win this game!
If you enjoyed playing Domino Battle, you should check out our online and free collection of skill games here.
Developer
Inlogic Software developed Domino Battle.
Release Date
September 14, 2021
Features
2D colorful graphics
Need for strategic thinking
Intuitive skills
Playing assistance
Controls
You can use your mouse to choose the options.