Play Now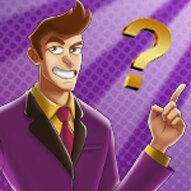 Don't Jeopardize This is here to test your knowledge on different topics from food to geography! Which is the smallest planet in the Solar System, or do you know the name of this longest river in Africa? Knowledge is power, so are you ready to show how powerful you are?
You can't win all games with brute force! Sometimes you need to use your wits and give the right answer to a tricky question! Featuring such questions from various categories in different difficulties, you better roll up your sleeves and get ready to face the challenges of this game! There are 3 rounds to complete in his game. To see a question, select a money prize under any category. Then pick the answer you think is correct. If your answer is right, you'll earn a money prize. Picking the wrong choice will reduce the money from your total, so answer carefully. You have 20 seconds to answer a question. Remember, the bigger the prize harder the question! When you answer enough questions, you can move on to the next round. This round has bigger rewards. Completing this round takes you to the final one. In this part, you can bet any amount of money you've collected. Answering this question correctly will add the money you bet to your total while being wrong will reduce your total money in the amount of your bet!
Do you want to play another game? Try Words Challenge next. Have fun playing!
Developer
MarketJS developed Don't Jeopardize This.
Release Date
August 24, 2021
Features
Different questions to answer from different categories
Entertaining gameplay
Colorful graphics
Intuitive controls
Different prizes
3 rounds to complete
Controls
You can use your mouse or the touch screen controls to play this game.