Doodle God: Rocket Scientist
Play Now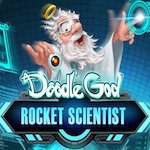 In Doodle God: Rocket Scientist, let your imagination run its course! Scientists have discovered many elements in the past years! You know that scientific knowledge will never end, and there's no end to learning. Now, it's your turn to discover new things. This game will help you test your wits and become a mastermind. Are you up for the challenge?
It's never too late to learn and delve into the amazing world of science. There are just so many things to learn and create. In this game, your objective is to explore the elements of humanity and create new ones. At the beginning of the game, you have 5 elements and 5 groups. You need to expand the two groups by combining 2 elements. When you combine the two elements, you can create a new one. If the two elements can't create a new one, try your luck with different pairs. Let your imagination run wild and create more than 70 elements and find more groups. You'll unlock achievements and artifacts as you open main game elements. Other than the main game, you can also try the quests mode and puzzles mode. How many elements do you think you can find in this game? Start now and fill your head with knowledge.
If you like playing puzzle games, be sure to check Word Sauce by clicking here and enjoy finding different words!
Developer
JoyBits developed Doodle God: Rocket Scientist.
Release Date
June, 2017.
Features
Entertaining gameplay
Puzzles to solve
Achievements to unlock
Colorful 2D graphics
Controls
Use the left mouse button to play this game.