Doodle God Good Old Times
Play Now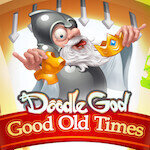 Doodle God: Good Old Times welcomes you to another exciting adventure of this addictive and full of fun series! For this adventure, you should broaden your mind to solve the puzzles to shape the world image that in your head. The logic of the game is the same as the previous ones, which is matching the elements to create new ones. Let's start the game now to have lots of light bulbs!
Since the beginning of the planet, nature has always had endless mysteries especially when it comes to humans. In this fun adventure, your objective is to match the current elements and create new ones to solve these mysteries. When you start the game, you will see an open book with two groups. You should click on one icon of each group to extend them. Each icon has one or more elements. Combine the elements of each group to create a new one. If your match is successful, the element frame will be bright white. But, if there is no match of the chosen elements, the frame will vibrate. Create as many elements as possible and shape the world in your mind. When you find the final element of each group, the element frame will turn blue. If you get stuck and cannot come up with new matches, you can buy hints with the coins gained through element matches. Enjoy!
Be sure to check our collection of free and online puzzle games to solve the other mysterious of the universe.
Developer
Joybits developed this game.
Release Date
May 29, 2019
Features
3D colorful graphics
More than 100 elements to create
Various quotes from famous people
Entertaining and addictive gameplay
Controls
You can use your mouse to play this game.