Play Now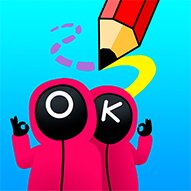 The strategic killing itself sounds cool but Draw and Destroy offers you a chance to draw the exact path for your weapon! Combine your drawing and combat skills to develop a crime pattern no one has ever seen! Let your weapon deal with the gravity and plan otherwise physically impossible murders!
You have set the scene; the men are in the right position, and the background offers a profit. The only thing left to do is draw the ideal line your weapon can follow on its way toward your enemies. Narrow passages can complicate your operations, and getting every piece of gold will come in handy later, so think carefully. Put the enemy on the end of the line because once your weapon touches the enemy, the level ends. There is no need to rush, so draw the path slowly and carefully and include every coin. At some levels, you must hit the target directly, while at some, you will use your weapon to activate mechanisms. Unlock more than twenty weapon skins and try new looks fit for your style! Complete all thirty-three levels to improve your both drawing and puzzle-solving skills!
If you like puzzles that include drawing and strategies, you can check out Master Draw Legends and draw a line for your potions to follow and destroy monsters!
Developer
Proto Games developed Draw and Destroy.
Release Date
April 6, 2022
Features
Colored 2D graphics
Improving skills
Easy to play
Unlockable content
Available on mobile devices
Controls
You can use your mouse to play this game.