Play Now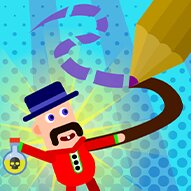 You have mastered the art of potion brewery, now it is time to learn how to use your potions with Master Draw Legends. There is an army coming from underground to invade our world, and your potions are a good match to their strength. The only problem is aiming. Apparently, you are on your own with that too. You will need unique strategies to kill your enemies in the right order.
You don't simply throw potions; you draw lines, and your potions follow them. Drawing a line directly towards an enemy is a way of killing them, but you can also direct your potions to red buttons and trigger bombs under the monsters. Don't forget that your potions will move just as fast as your pen. Avoid touching the blades and adjust your timing with them in your mind, because your potions will blow up and go to waste with one touch. You start every level with a limited number of potions, and once you run out of them, it's game over. Collect and save gold coins to unlock new potion flasks and character skins. Complete all 20 challenging levels to beat the monsters and save the world.
If you would like to solve more funny and fantastic puzzles like this one, you can check out Slime Arrows and help a green, slimy friend go their way!
Developer
kiz10.com developed Master Draw Legends.
Release Date
November 11, 2021
Features
Colorful 2D graphics
Funny character and monster design
Easy to play
Focus on drawing and timing skills
Available on mobile devices
Controls
You can use your mouse to play this game.