Drift Car Extreme Simulator
Play Now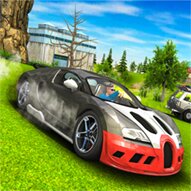 Buy the fastest race cars, modify them, and join thrilling races with Drift Car Extreme Simulator! Make points by drifting and turn these points into money that you can use to unlock better cars! Choose your driver, recolor your car, customize its looks, and add style to your speeding machine!
The game directs you to the garage before the action starts. You can check the car options and their speed, brake, tire, and fuel stats here. All these features determine your spot in the races and the amount of effort you must put into staying ahead of your opponents. Next, you must choose between three game modes. You can roam on an open map by choosing Free Ride, choose Missions to accept and complete quests and earn money for your work, or attend races and try to leave four other racers behind while speeding toward the finish line. The common point of these three modes is that you get paid for every drift. You earn money equal to ten percent of the drift points you make. You can keep pulling stunts, make more money to unlock faster cars with better equipment, and show your opponents what you are made of!
If you like this 3D car race with different modes, you can check out Drift Torque and continue drifting on different tracks!
Developer
Best Free Games developed Drift Car Extreme Simulator.
Release Date
June 14, 2022
Features
Amazing 3D graphics
3 game modes
Story quests
Unlockable and customizable vehicles
Stunning backgrounds
Controls
You can use the arrow keys or "W, A, S, D" to play.