Play Now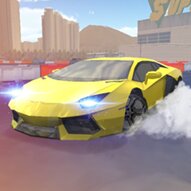 In Drift Torque, get ready to show off your amazing driving skills! Think about the best places to perform extreme drifts. What about an airport full of planes at rest? What an excellent idea we thought and then we took you to that airport. Showing your performance with your drifts and speed is all up to you, though. What do you say? Are you up for this adventure?
Perfect drifts require perfect skills! How much do you trust yourself to drive a new brand sports car at an airport? We can hear you say, "Quite enough!". If we hear right, it is time for you to start this game right here, right now. Your objective in this fun car game is to perform as many drifts as possible. Sound easy? You bet! Controlling the car can give you difficult times but don't worry 'cause crashing the car is IMPOSSIBLE in this game. You can get as extreme as you can and receive much more points. As you complete the laps and rounds, your earning will increase. With those, you can unlock new cars with better stats. The racing field will change too, of course! Everything is up to you and your talented hands. So, if you are ready, let's get it started. Shall we?
What about the stunts? If you wanna try another amazing car game that you can perform both drifts and stunts this time, then be sure to check Supra Drift Stunt by clicking here.
Developer
Fuego! Games developed Drift Torque.
Release Date
April 7, 2021
Features
3D colorful graphics
Different cars to unlock
2 laps to complete
Entertaining and addictive gameplay
Controls
Use the arrow keys to drive, steer, and brake.