Play Now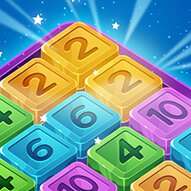 Can you do the math to solve the puzzle in Drop n Merge? You will need high focus and adequate math skills for this game. Your task is a chill yet challenging one here. Now, get ready to use your brain and go as far as you can go in this game!
In this puzzling game, you will have a space of 30 squares. The input to this 30-square space can only be done from the top of the rectangular area. You have an option of 5 columns to choose one among. For each following number, you can choose one column that the number will drop from. Your main aim should be to merge the numbers when choosing which column to drop the numbers in. You are given your next move alongside the current number you will drop, so keep an eye on that, too. If you can drop a number on top of the same number, you will see how those two numbers merge and turn into the upcoming number. This way you will get only one square from two or three squares which will save you space. There's no time limit or limited right to make a wrong move in this game. So, only when you're left out of any space to drop new numbers, you will fail. Now, relax and have fun killing some time with this fun yet challenging game.
If you enjoyed playing Drop n Merge, you should check out our collection of free and online puzzle games here.
Developer
RedFoc developed Drop n Merge.
Release Date
August 18, 2021
Features
2D colorful graphics
Challenging game experience
Intuitive skills
Playing around with numbers
Addictive gameplay
Controls
You can use the mouse of your computer to drop the numbers.