Play Now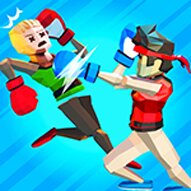 With Funny Ragdoll Wrestlers, get ready to beat your best friend in a hot competition! The best achievements come from defeating a talented opponent. Invite a friend or your sibling over to show off your muscles in this amazing 2P game! If you want to become the gamer who beat an AI, you can also play in the 1P mode and take the CPU down! Ready? Let's get it started, then!
Being a ragdoll wrestler means 2 things. 1: You are a natural comedian, and you must be funny. 2: You are made of sticks. So, there is no way that you can keep your balance. The second can be a little bit challenging for you! In this fun sports game, the objective is to win the match by scoring 5 rounds. There are two game modes that you can play. You can either enter in 2-player mode with a friend or compete against the CPU in the 1-player mode. Use the keyboard keys to move and hit. The player who gets 5 rounds wins the match. Pressing the keys fast is not always a plus. You can get disappointed. Check your life bars from the top of the game screen. Good luck!
Be sure to check our collection of online and free 2 Player games to compete against your friends to show them who the boss is!
Developer
RHM Interactive developed Funny Ragdoll Wrestlers.
Release Date
August 5, 2021
Features
2D colorful graphics
1 Player and 2 Player mode to select
Changing backgrounds
Fun end engaging gameplay
Controls
Player 1: Forward/Backward: "W, S" Punch: "A, D" Head hit: "E" Player 2: Forward/Backward: "up and-arrows" Punch: "left and right arrows" Head hit: "right shift".