Play Now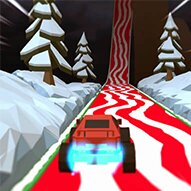 Call your friend and explore long tracks full of surprises with Monster Truck 3D Winter. Use platforms to jump, do complete 360's, and pull amazing stunts! Collect the gifts of Santa, rise through 10 levels, and unlock new cool and funny vehicles!
You can either split the screen and experience this fun race with another player, or keep it all to yourself. Speed among glaciers, collect the winter's gifts, and use every chance to do tricks that add to your nitro boost. You can unlock a bigger and more stable truck at level 4, and Santa's Sleigh with reindeers at level 7. Whichever vehicle you choose, the track keeps you in ints borders with invisible lines at both sides, but it can't protect you from falling in gaps. Speeding up, even using nitro for a small boost is the best tactic before flips and jumps between platforms. You earn up to three snowflakes at the end of every level, and they are determined by your total score and finish time. So you can take your time and explore the area without a hurry, and take another chance later to break your personal record!
If you like racing and stunts, you can check out City Bike Stunt and test your balance on a motorcycle!
Developer
Vitalitygames.com developed Monster Truck 3D Winter.
Release Date
March 2, 2022
Features
Colored 3D graphics
1P and 2P options
Unlockable vehicle skins
10 levels of challenge
Available on mobile devices
Controls
In 1P mode: use the arrow keys to move, spacebar for brakes, shift for nitro, and "Z, X, C" for stunts.
For 2P mode: Player 1 uses "D, X, C, U" to move, shift for nitro, "A" for tricks; and Player 2 uses arrow keys to move, "O" for nitro, and "P" for tricks.