Play Now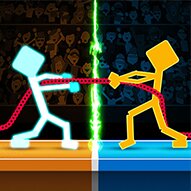 In Drunken Tug War, prepare yourself for another episode of Drunken! Another chapter of the well-known gaming series has been released. It's not about wrestling, boxing, or dueling. Are you up for a game of tug of war to put your strength to the test? Good luck!
The ring is waiting for you to compete for supremacy. Step into the ring and, with those powerful arms of yours, grasp one side of the rope. There are two game modes in this game. The first is the single-player game option, which allows you to compete against the computer. You can challenge a friend in the second game mode if you trust yourself and your muscle strength. The W key is for the first player, while the up-arrow key is for the second. Your goal is to have your opponent touch the green radioactive region by pulling on your end of the rope. As soon as the round begins, press the W key as quickly and as often as possible. On the top of the screen, you'll see the health bars. The game is won by the person who wins 5 rounds. Good luck!
Do you want to play more games like this one? If so, take the different challenges in our collection of free and online 2 player games.
Developer
RHM Interactive developed Drunken Tug War.
Release Date
July 05, 2021
Features
2 player game option
Fun and addictive gameplay
Intuitive controls
Nice 2D graphics
Controls
Player one can use the W key to control their character. Player two can use the up arrow key to control their character.