Play Now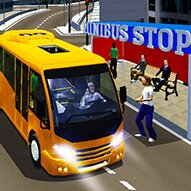 With City Minibus Driver, you can discover the city! You can enjoy the roads with your neon bus in Free Drive mode! You can invite a friend over to compete for your driving skills in two-player mode. Improve your career, unlock new vehicles and customize them according to your preferences. If these features are not challenging enough for you, you can also race against other opponents and feel the thrill to the end. Let's get it started now!
If you were a bus driver, how'd you want to customize it? Where would you want to go? You can find the answers to all these questions in this fun driving simulation game! There are 4 different game modes that you can select. The first one is the career mode in which you should complete 10 levels to improve your career by taking the passengers to the stations safely. The second one is the race mode, where you compete against other busses in the given time. The third one is the free drive mode with which you can discover the roads of the city! The last one is the two-player mode in which you play with a friend to see who a better minibus driver would be! You can unlock new vehicles with your earnings and change their colors too! Good luck!
If you enjoyed your time in this amazing game, be sure to check our collection of free and online car games by clicking here to browse other fun driving simulation games!
Developer
RHM Interactive developed City Minibus Driver.
Release Date
July 16, 2021
Features
3D colorful graphics
Fun driving simulation game
4 game modes including 2-player mode
Addictive gameplay
Controls
Player 1: "W,A,S,D" or Arrow Keys. Look back: "B" Fix bus's position: "R" Handbrake: "SPACE" Horn: "1,2,3" Camera: "C" Player 2: "Arrow Keys" Look back: "B" Fix bus's position: "O" Handbrake: "RIGHT-SHIFT"