Dumb Ways to Die Original
Play Now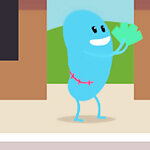 In Dumb Ways to Die Original, you can explore the very first silly ways to hurt the various characters in the first game of the wildly popular series. Featuring many different characters and hilarious scenarios, the levels in this game will challenge you in the most fun way. If you're ready to jump into the dangerous and funky world of this game, then start playing now!
There are many ways to kick the bucket. All are tragic in their own way but some of them are dumb and funny! The main objective of this game is to keep your characters alive through various fatal scenarios. This may sound a little bit hard, and it becomes challenging from time to time. But the controls of this game are so simple, everyone can easily play the game and earn points. You can play the game with your mouse, so click on the play button on the main menu to start. Your character will go through many different situations, and you should act quickly to save them from their demise. From stitching a scar to destroying asteroids, you'll have to deal with many different things. You start the game with 3 lives and lose one each time you fail at your task. Earning points will unlock new and different characters, so try to score as high as you can! Enjoy!
Do you enjoy challenges? Then why don't you check our collection of free puzzle games? Have fun!
Developer
Market JS developed Dumb Ways to Die Original.
Release Date
September 23, 2019
Features
Colorful 2D graphics
Funny animations
Different challenging activities to complete
Multiple unlockable characters
Intuitive controls
Hilarious and entertaining gameplay
Controls
You can use your mouse to play this game.