Play Now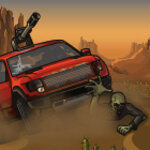 In Earn to Die, zombies have invaded everywhere, and you're one of the few survivors who went into hiding. Stuck in the desert, you're desperate to find a means to escape until you've spotted a helicopter in the distance. No amount of undead should stop you from reaching your target!
The desert has nice vistas, but you prefer to spend your time in nicer places during the zombie apocalypse. Your objective in this game is to reach the helicopter by driving through the road filled with obstacles. The game features 2 different game modes that you can play. The first one is the story mode. Once you complete it, you can unlock the second one, the challenge mode. You have 3 cars that you can use in each mode. In story mode, only one of them is available, and you should unlock the rest with the money you earn. You collect money depending on the distance you travel. Each car has different upgrades such as a more powerful engine or a machine gun, that will help you through your journey. Good luck!
For more games like this, be sure to check our collection of free car games. Have fun!
Developer
Toffee Games developed Earn to Die, as well as the other title in the series, Earn to Die 2012.
Features
Colorful 2D graphics
6 different parts to upgrade
3 different cars that you can unlock and use
Intuitive controls
Entertaining and challenging gameplay
Controls
You can use the arrow keys to control your car. Use the CTRL or the X key for boost.