Play Now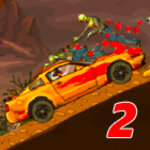 In Earn to Die 2012, a zombie apocalypse devastated the world and human civilization. The remaining survivors build a safe place for themselves. Take control of a lone survivor, and try your best to reach safety by any means necessary. Can you overcome the waves of zombies trying to stop you from your completing your quest?
The best way to travel from one point to another is using a sturdy and speedy vehicle. Your objective in this game is to complete each level by reaching the end. At the beginning of the game, the vehicle you have is weak and needs upgrades. Each day, try to travel as far as you can. By doing so, you'll earn money depending on the distance you cover. You can purchase upgrades from the garage. After collecting enough money, you can even unlock bigger and stronger vehicles. On your way, the zombies will try to stop you. Run them over with your vehicle. You stop when you run out of fuel, so you should prioritize upgrading your tank. Good luck and have fun!
Don't let those undead intimidate you! Continue your adventure in the second part, Earn to Die 2012: Part 2. Enjoy!
Developer
Toffee Games developed Earn to Die 2012.
Features
Colorful 2D graphics
3 different and challenging levels
3 different vehicles to unlock and use
Various upgrades to unlock for your vehicle
Entertaining gameplay
Intuitive controls
Controls
Use the WASD or the arrow keys to control your vehicle. Press the X or the CTRL key to use the booster.