Play Now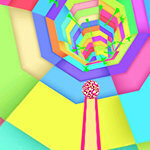 In Color Tunnel 2, get ready to dive into the world of ever-changing colors full of obstacles. Just like in the previous title of the series, you take control of a ball and try to travel through a tunnel. Keep your eyes on the screen, and try your best to avoid crashing!
Look at all those colors! It's dazzling, but you should focus! Your objective in this fast-paced game is to travel as far as you can by avoiding obstacles. To start the game, click on the play button and then on the screen. You can control your ball with the left and right arrow keys. There are many different obstacles on your way. You should decide fast and carefully to avoid hitting them. At the top of the screen, you can see your score. You earn a point with each passing second, so try to survive as long as you can to earn a high score. You can click on the trophy button on the left side of the screen to view the challenges. Completing them will reward you stars and gems. You can use the gems to unlock new ball types. Good luck, and keep rolling!
Be sure to check the first game of the series Color Tunnel, by clicking here. Have fun playing!
Developer
Great Games developed Color Tunnel 2.
Release Date
November 14, 2019
Features
Colorful 3D graphics
An endless level filled with various obstacles
Intuitive controls
Fast-paced and challenging gameplay
Controls
You can use the left and right arrow keys to move around the tunnel.