Play Now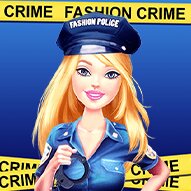 Ellie Fashion Police arrived in the town to fix her friends' clothes! Don't you dare underestimate their crimes by saying nobody is hurt; because our eyes are! At least come decent citizens are doing their job. Ellie is always wherever she is needed! Malls, schools, beaches; one can never know when someone is going to break the laws of fashion! Come and help her save people before someone gets shunned from society forever!
She's here, she's there, she's everywhere; ladies and gentlemen, may we introduce you to Ellie? She is the secret hero protecting your eyes from the horrors lurking in the shadows of the city. Day or night, crime never sleeps, and neither does the fashion police! With your help, she will give her friends some fashion sense. Arrest the lawbreakers with Ellie, and dress them up. Choose their shirts, skirts, and shoes, do their makeup, change their hair. Read the fun dialogues between our hero and the poor girls she helps. Prove them innocent by recreating them. Visit different wardrobes every time and dress up six girls. After helping them all, you can go back and dress them all over again! Unlock new makeups and accessories by watching short ads to complete their looks!
If making trendy choices is your thing, you can check out Back to School Fashionistas and help our girls dress up for school.
Developer
Top Girl Games developed Ellie Fashion Police.
Release Date
November 8, 2021
Features
Colorful 2D graphics
Easy to play
Funny and creative dialogues
6 different girls to dress up
Available on mobile devices
Controls
You can use your mouse to play this game.