Play Now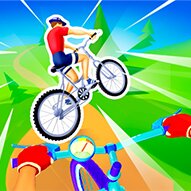 Extreme Cycling is a mean race in which you do not actually try to finish the first; you try to finish alive. Knock other players from different nationalities out, follow the path or use shortcuts, and whatever happens, do not hit obstacles. One hit, and you are off the game for life.
Start the game by clicking with your mouse, and accelerate and steer with your mouse or arrow keys. Speed in vast deserts, rain forests, and snowy mountains under the sunset. Whichever climate you are in, trees are the first thing you will be avoiding. Diving face-down from high hills and mountains is the second. Approach your opponents from their backs and hit them. A slight touch is enough. Then you can watch them fly off their bikes with their spaghetti arms and legs. It's not the kindest move you can do during a bike race, but the number of racers you bring down determines your score in this game. Rush towards the finish line and use accelerator ramps to speed up and jump on the scoreboard to earn extra gold off the level. You can use this gold to upgrade your speed, steering, and finish bonuses. Also, don't forget to stop by the shop to unlock new helmets!
If you like speeding with bikes, you can check out Happy Racing Online and try not to explode on your way to the finish line.
Developer
2Play developed Extreme Cycling.
Release Date
February 22, 2022
Features
Colorful 3D graphics
Different maps every level
Easy to play
Different control options
Available on mobile devices
Controls
Left-click with your mouse to start the game. You can use the arrow keys or your mouse to accelerate and steer the bike.