Red Stickman: Fighting Stick
Play Now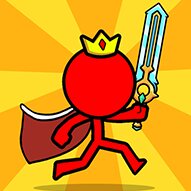 Red Stickman: Fighting Stick brings adventure, action, and puzzles together in two exciting modes. Pass fun and challenging levels by solving puzzles, collect cool swords and gold, unlock new skins, and level up your stickman warrior for the arena mode! Get pets to earn new powers and use their magnets and reviving skills on your way to the top!
You can use the arrow keys to move your stickman and spacebar to attack enemies. You will come across slime killers, poisonous skeletons, evil bats, bees, spiders, and many powerful bosses on your adventure. You are not weak enough to be one-shotted, but be careful as a few hits can kill you. Watch out for skeletons with ranged attacks and spiders lurking over you. Check the missions tab once in a while to receive your gifts. Log in every day to earn daily rewards and stop by Lucky Spin to try your luck. You can unlock random costumes with your hard-earned coin, or use it to improve your character and ready him for tougher enemies in the arena. Watch short ads to try new skins and swords, and enjoy more than one hundred levels of adventure!
If you like controlling this stickman with incredible sword skills, you should check out Stickman Bike Rider and see what else his kind is capable of!
Developer
Bin Studio developed Red Stickman: Fighting Stick.
Release Date
March 16, 2022
Features
Colorful 2D graphics,
2 game modes
100 levels in classical mode
Available on mobile devices
Controls
Use the arrow keys to move and the spacebar to attack.