Play Now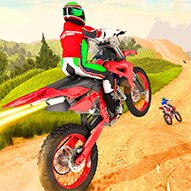 Dirt Bike Stunt 3D offers you a realistic riding experience on mountains in addition to competitive races and complex obstacles. Enjoy the open air while staying alert, as you can never know what to expect at the next corner. Keep an eye on your speed and watch out for curves; one mistake can leave you off the race!
The difficulty rises at every level, but not every level is designed in the same mode. Some levels will require competing, some will put you through a parkour course on the back of your bike, and others will ask you to reach the checkpoints before the time runs out. You will be competing against other racers, nature, obstacles, and a countdown. Competitions are not that much of a problem as you are only expected to be in the top three to pass the level. Just keep your eyes on the road and hit the breaks at the right time to avoid crashes and time penalties. Use the elements to jump over obstacles and save time. Don't forget about safety, enjoy the mountain view, and upgrade your bike whenever you get the chance; your biker will handle the rest.
If you like exceeding limits and defying the law of gravity with bikes, you can also check out Moto X3M!
Developer
Hit Games developed Dirt Bike Stunt 3D.
Release Date
February 24, 2022
Features
Stunning 3D graphics
Easy to play
10 levels of challenge
Unlockable bike and skin options
Controls
You can use arrow keys to move your bike and spacebar for brakes.