Play Now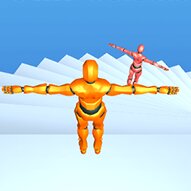 In Falling Down Stairs, the stairway to Earth is here. Due to your villainous actions in heaven, you were sentenced to spend your days as a mortal on Earth. As a fallen angel, it's time to hit the bottom ground. Ready or not, here we begin!
Did it hurt when you fell from heaven? Well, you are about to find out. You may have seen dramatic pictures of falling from the sky, but in this game, you will tumble down the stairs along with other wicked angels. We'll see you on Earth and you can tell us all about the experience. Now, first things first! Your objective is to fall down the stairs for as long as you can to earn a high score. To play, you can use the mouse. Just press the left mouse button and swipe left and right to control your character. There are also other villains falling from grace just like you! You can kick them when they are already down and make them lose. Try to hit the arrow keys when you are tumbling down to fall even faster. Just avoid the spikes and falling off the platform and you'll be good to go. Have fun falling!
Falling from grace may have hit you hard, but here's your chance to climb back to heaven. Play Longest Stair and prove you can redeem yourself. Enjoy!
Developer
YAD.Com developed Falling Down Stairs.
Release Date
April 12, 2021
Features
Fun and addictive gameplay
Intuitive controls
Nice 2D graphics
Endless gameplay
Controls
You can use your mouse to play this game.