Play Now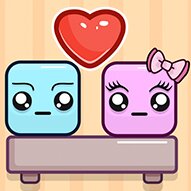 Falling Lovers sums up everything about love through the story of two cubes desperately trying to come together. It gives you environments full of obstacles, and you get one shot to get them together. If you cannot, it's over. Of course, as this is just a game, you can try again and find happiness on your second try.
First of all, you must accept the power of gravity; no love ever won against it. Now you must learn how to use it to your advantage. We must drop the blue lover gently on the pink lover who is waiting at the bottom patiently. Luckily, we can tilt the shelves just enough to make that happen. Move slowly to see your effect on this tiny and adorable cube's movements. Now tilt a little more to make him fall on his lover and end the level with an affectionate kiss. The puzzles will get more difficult as you move forward. This tiny soldier of love might have the power of his lover, but spikes still hurt him, so avoid them. Plan your next move, wait for the right time, and aim. It looks like fate is not taking his job seriously, so can you take over and grant them the happily ever after?
If you like this game, you can check out our Puzzle Games category and find more of these brain-challenging adventures!
Developer
QkyGames developed Falling Lovers.
Release Date
March 22, 2022
Features
Cute 2D graphics
Adorable characters
36 levels
Available on mobile devices
Controls
You can use your mouse to play this game.