Play Now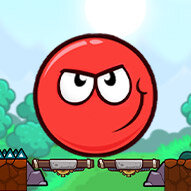 In Heroball Adventures, get ready to accompany the red ball in his new adventure. Who says an ordinary ball can't have adventures? Our character is no ordinary ball, he is a hero! A hero that if you mess with his loved ones, he will do anything to save them. Are you ready to be his company on this adventure and see what he can do?
Who needs special powers when you have a friend like this? It all started one day when our hero was sleeping. A mysterious power kidnapped his friends. Now, it's time to strike back! Get ready, we are going on an adventure! Your objective is to complete each level and save his friends. You can control the red hero with WASD or arrow keys. However, this may not be as easy as it sounds. Whoever kidnapped his friends left a lot of traps behind his trail. Beware of spikes and monsters that patrol the paths. Try to collect all the stars. You'll also need to find some keys that will open locked doors. As the game progresses, more dangers like lasers will await you. Be a hero worthy of your reputation and don't let fear strike into your heart. Don't forget to buy new skins to with the stars you gather. Have fun playing!
Red ball's adventures don't end here. Play online skill games now and accompany him once more!
Developer
kiz10.com developed Heroball Adventures.
Release Date
April 28, 2021
Features
New skins to unlock
Many levels to complete
Intuitive controls
Nice 2D graphics
Controls
You can use the arrow keys or WASD keys to control your character.