Play Now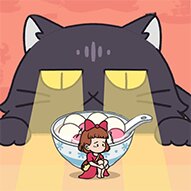 Keep the little girl safe from the paws of a giant kitten with Kitten Hide And Seek! Hide behind the objects in the kitchen, stay safe from its laser eyes, and build yourself a tiny house behind the walls! Go out into the danger zone and run from the angry cat to pick up new objects for your home!
One day, this little girl woke up to an unfamiliar world where everything was extremely big. Or she has shrunk. What she knows for certain is that her lovely pets are dangerous for her now! She must escape the paws she once petted. You can help her do so. To do that, you can command her out in the kitchen, the base of the lethally cute housecat. Run on the kitchen table, collect gold coins, and watch out for any suspicious signs from the cat. Once you see those fluffy ears, it's time to take cover! Any object that is bigger than you will do. Click to hide, and wait until the cat lasers are gone. You can start running once the cat is gone. Add new furniture to your room every day to rebuild a home for yourself! Good luck out there!
If you like this cute game of cat and mouse, you can check out our other Adventure Games and find more games like this!
Developer
PuzzleGame.Com developed Kitten Hide And Seek.
Release Date
August 15, 2022
Features
Colorful 2D graphics
Cute characters
Funny theme
Addictive gameplay
Available on mobile devices
Controls
You can use your mouse to play this game.