Play Now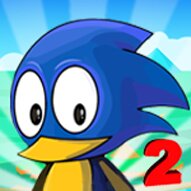 With Wings Rush 2, our beloved blue friend's adventure continues to delight his followers! The heroes are more excited this time, and the obstacles are far more dangerous. Prepare to run nonstop, for there is no such thing as slow in this game. To put your talents to the test, all you need is a mouse or touch controls. How excited are you to boost your success and meet the fantastic friends of this bluebird? Good luck!
Before you start this runner adventure, stretch your legs and fingers. You'll need your lightning-quick legs and dexterous talented fingers now more than ever. In this entertaining running game, your goal is to complete the levels while avoiding deadly obstacles such as spikes, wild animals, and other dangers. Even if the odds are stacked against you, you can finish this assignment and bring this adventure to a close. Travel through the Green Hill, Marble, and Desert zones. Each level contains a few checkpoints. You can respawn from that spot if you break them by leaping on them. Collect all of the rings and gems to gain access to the in-game shop, where you may purchase new and faster characters. Keep an eye out for potential tripping obstacles! They can appear in places you wouldn't expect. To double jump, click or tap twice. You can be the one to beat the animals if you jump on them! Now, good luck, and have a good time playing!
Do you want to play more games like this one? If so, take the different challenges in our collection of free and online adventure games.
Developer
kiz10.com developed this game.
Release Date
August 26, 2021
Features
2D colorful graphics
Several levels to complete
Multiple checkpoints to pass
Unlocking new skins from the in-game shop
Controls
You can use your mouse or the touch controls to play this game.