Find Different Pic Halloween
Play Now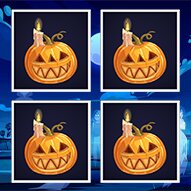 In Find Different Pic Halloween, you need to rely on your eyes! Don't worry, there aren't any hidden zombies or ghosts stalking you. So relax, and try your best to find the odd picture out of the bunch. What was that noise? We hope it's the wind...
From mischievous ghosts to ever-hungry zombies, and even charismatic vampires, the creepy denizens of this game welcome you among their mist-covered place. Whether it's the spooky season or not, get ready to embrace the Halloween spirit. Your objective of this game is to spot the different picture from the rest. This game features 40 levels for you to complete, and you unlock them one by one as you play. As you progress, it gets a bit harder, but we trust you can tackle this. On each level, you'll see 4 pictures. Click on the one with a difference to pass the level and earn points. You can see your level and your score at the bottom of the screen. If you click on the wrong picture, you'll lose points, so be careful! If you're stuck, just click on the magnifying glass icon for helpful hints. Have fun playing!
Enchant your neighbors with your crazy sweet candies in our other game, Witch Alchemist Saga! Click here to play now!
Developer
Lof Games developed Find Different Pic Halloween.
Release Date
October 13, 2021
Features
40 different levels to complete
Different spooky images to play with
Colorful 2D graphics
Intuitive controls
Entertaining gameplay
Controls
You can use your mouse to play the game on the desktop. On mobile devices, use your finger to play.