Play Now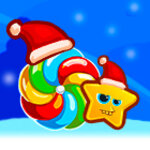 In Find the Candy: Winter, the snow has covered everywhere and hid the delicious candy beneath it. Grab your shovel, or in this case your mouse, and start digging and removing objects to find the tasty and colorful treat through multiple levels.
Everyone loves candy, so finding one is a prize! your objective in this game is to find the hidden candy in all of 20 levels. You can use your mouse to play this game, so click on the play button on the main menu to start the game. On each level, there's one hidden candy and three hidden stars. Collecting the stars is an optional objective, but trying to find them is fun, so grab all three of them. On some levels, finding the candy is as easy as opening a door, while on others, you have to solve puzzles to reveal it. levels get increasingly difficult, so get ready for a challenge! Click on different items to move or destroy them. Click and drag others to reveal what's hiding behind them. If you want to find all the stars in the level, be sure to look for them first, as when you find and click on the candy, you'll complete the level. Have fun!
For more fun and challenging games, be sure to visit our collection of online and free puzzle games. Enjoy!
Developer
bestphysics developed Find the Candy: Winter.
Release Date
December 12, 2017
Features
Colorful 2D graphics
20 different levels to complete
Intuitive controls
Entertaining and addictive gameplay
Controls
You can use your mouse to play this game.