Play Now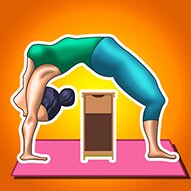 Flex your muscles in Flex Run! It is time to do some good exercise and you have all the time in the world. Still, there's something you need to be careful about. There are tons of objects coming at you and it is your job to dodge them. Do you think you can manage this?
You are a very flexible yogi, so there's almost nothing you can't do on a yoga mat. The world becomes yours when you just have your yoga mat and enough space. But here, there's something that is missing in this equivalence. Your space is being invaded by tons of furniture being thrown at you! Luckily, you are amazingly flexible, and you can dodge these pieces of furniture. All you need to do is to move side to side on a handstand. For each piece of furniture, you dodge, you will get 10 points. You can use these points to unlock new skins to have even more fun! Now, are you ready for a tight exercise session?
If you enjoyed playing this interesting 2D skill game, you should check out Fun Escape 3D for more fun!
Developer
DRA developed Flex Run.
Release Date
December 20, 2021
Features
• 2D colorful graphics
• Multiple levels to complete
• Entertaining and addictive levels
• Intuitive controls
Controls
You can use the mouse of your computer to move the character from side to side.